Russell Westbrook and Cameron Payne have a pregame routine for the Oklahoma City Thunder. It's a long, involved dance sequence in which the two players face each other and have some fun with it. It's one of those superstitious routines that players tend to believe is vital to their success. Everything with players is about routine and doing the same things over and over. These things matter to them as players.
This particular routine does not matter to Dallas Mavericks forward Charlie Villanueva. Before Game 2, Charlie V. decided to interrupt the dance party. As for Russell Westbrook, well, he didn't like that very much.
Charlie Villanueva tried to get in the way of Russell Westbrook and Cameron Payne's pregame routine: pic.twitter.com/7zhvasINPP

— Royce Young (@royceyoung) April 19, 2016
Everyone is lucky nothing happened there. Westbrook was fired up. We'll see how he responds in Game 2 vs. the Mavericks after blowing them out by 38 points last time in Game 1.
After the game, Kevin Durant and Westbrook were asked about Villanueva's pre-game disruptive antics. Needless to say, they didn't take kindly to the interruption.
(WARNING: KD uses some NSFW language)
Russell Westbrook on Villanueva getting in the middle of his pregame dance: "That's for the guys that don't play" pic.twitter.com/AbwjZsASw8

— Anthony Slater (@anthonyVslater) April 19, 2016
Couple that with the frustrating loss by the Thunder in Game 2 and we may have some fireworks in Game 3 in Dallas.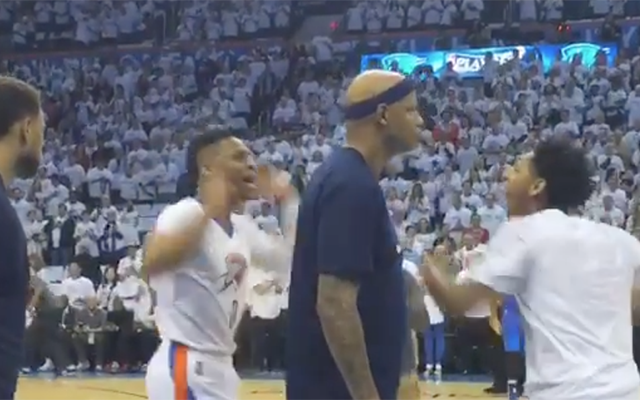 Russell Westbrook probably not a fan of Charlie V right now. (Instagram)
Credit: Matt Moore, CBS Sports